Quikbuild 3D Panel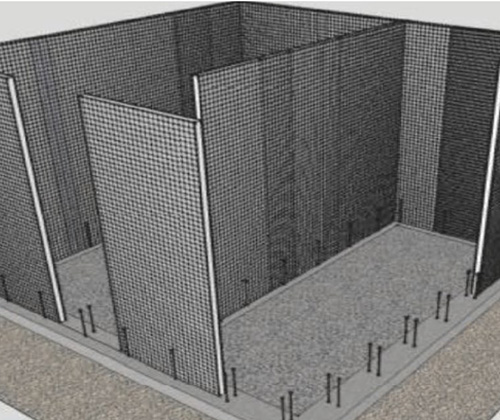 Year of Establishment : 1898 (Publicly listed at NSE and BSE)
Head Office : Chennai
Branches : Delhi, Mumbai, Bangalore, Hyderabad, Chennai, Kochi, Vizag, Ahmedabad, Coimbatore
Business and product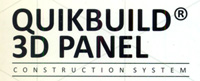 It is a Green Building Products company engaged in manufacturing and sales of prefabricated construction products for Clean Rooms, Cold Storages, Warehouses, Factories, Villas, Multi-storey residential & Commercial Buildings etc. The Company is Pioneer in developing 3D panels with expanded polystyrene core.
Financials With Revenue of 2.5Billions(2017-2018), company is expected to grow at 50% in next two years
About us Beardsell Ltd has built a reputation of reliability, and trust with its customers and other stakeholders over several decades. It is managed by a highly accomplished Board of Directors and a professional & competent management team.
Quick Build System
The Quick Build system uses modular panels that are prefabricated with utility add-ons to build a frame for the structure, Concrete or Plaster s then applied to the whole structure to complete it.
The panels consist of
A Polystyrene Core sandwiched between two engineered layers of
Galvanized Steel Mesh in addition
Galvanized Steel Truss is pierced through the Polystyrene Core and welded to each of the outer layer sheets of steel mesh.
The utility add-ons like electrical and water pipes can be pre-build into the core material or added in situ before applying the plaster or concrete.
Benefits of using this System
Modern Technology
Insulated Building
Increased Floor Area
Green Building
Stronger & Lighter
Earthquake Resistance
Design flexibility
Crack Proof
Low cost
Direct cost saving due to reduced labour, reduced material, and cheaper construction equipment. Low weight of the product also reduces logistical costs
Structural Integrity
The monolithic structure of the panel in conjunction with concrete enables a structure build with it to withstand earthquakes, hurricanes, and high winds
About Quick Build Product
The Quick Build Construction system uses Modular panels and accessories to build a frame for a structure. Concrete or Plaster is applied to these panels to finish the structure.
The panels consist of
Polystyrene Core
Galvanized Wire Mesh - Two outer layers
Galvanized Wire Trusses is pierced through the Polystyrene Core and welded to each of the outer layer sheets of Wire mesh.
Roof Panel
Groove (Approx. 2" deep) for Microbeam (with or without steel rod)
Minimum Thickness of core in panel is 80mm
Tongue and Groove joint also available at ends
Accessories
I-Mesh - Flat Joining Mesh
L-Mesh - Corner Joining Mesh Panel
C-Mesh - End Covering Mesh
Construction Method
PLINTH BEAM
Providing steel reinforcement for plinth Beam.
Re bars are providing at 2 feet span and 1" feet height.
All along the plinth beam to hold the panels.
Pour concrete to form the plinth beam.
WALL PANEL ERECTION:
Panels are placed in between the re-bars on the plinth beam. Erected panels are then bound to the re-bars with binding wire.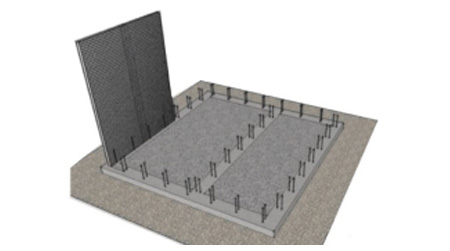 WALL PANEL JOINTS:
Panels to Panel is Joined with a joining mesh
I-mesh is used for a flat joint
I-mesh is overlapped over the two panels and is bound with a binding wire or stapled using a Clinching Tool. At every 100mm span the joining mesh is bound to the panels.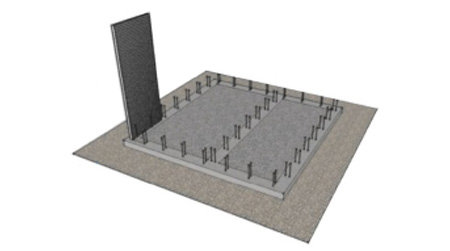 CORNER JOINT:
Panels at the corners are joined with a L-mesh (Corner joining mesh). The Mesh is placed over the joint at the corner and is bound wire or stapled using a Clinching Tool to the panels. All corners of the building panels are joined from both inside and outside with the L-mesh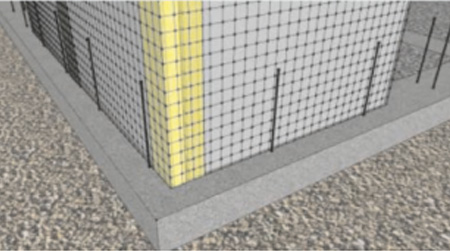 WALL PANEL ERECTION:
Complete erection of all wall panels leaving space for the doors or other opening.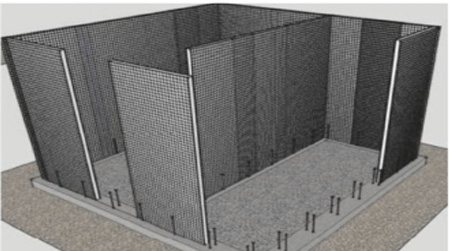 WINDOW / DOOR CUTOUTS:
Cut opening for window with a help of a cutter.
Fix door frame and window frame to its corresponding opening.
Window frames are fixed with a help of a C-clamp.
On one side it is screwed to the wooden frame and the other end is fastened to the panel with Binding wire.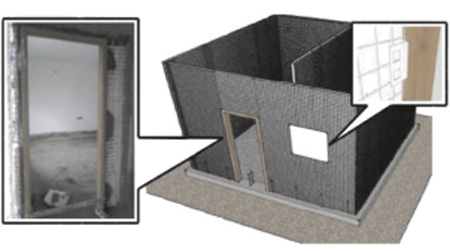 CONCEALED PLUMBING:
Piping is placed in the core material behind the Wire Mesh
No Chipping and Rework required afterwards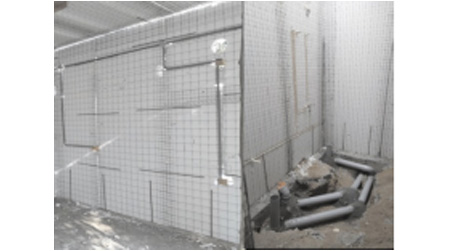 ROOF PANEL FIXING:
Erect the Roof Panels on the walls and join them using L-mesh on all the corners where wall panel and roof panel meet. L-mesh should be on inner and outer side of corners.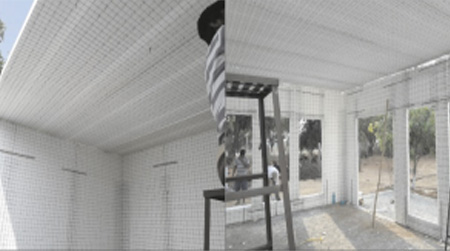 PLASTERING / SHOTCRETING:
Plaster both sides of the wall panels with mortar. The plastering can be applied Manually or with a Shotcreting machine. First coat a plaster called rough plaster is 15 mm thick up to mesh level.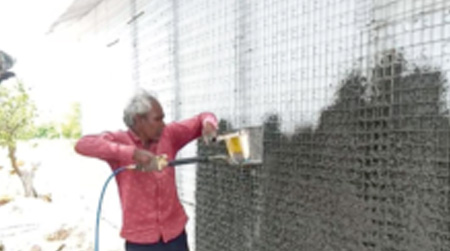 ROOF CONCRETING:
Shuttering plates support at every 1 feet distance in only one direction is used for Roof Casting. Slab top Concreting is 3 inches and Slab bottom plastering 1 inch.