FOMATHANE® PUF Pipe Section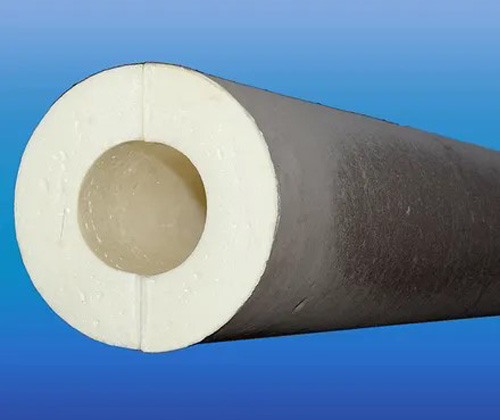 BEARDSELL LIMITED a company established in 1936, has steered itself successfully in the EPS industry. Since its establishment the company has grown multifold and has always met the growing needs of the market. Our professional team's excellence and committed service in providing quality products has helped the company to reach the forefront.
We have famous brand name for our EPS products, such as:

It is a versatile expanded rigid cellular polyurethane foam manufactured to international standard using the most modern technology for air conditioning of commercial complex insulation, cold storage and to manufacture up to -2000 c temperature refrigerated room and pharmaceutical and chemical industries for hot and cold insulation and pipeline insulation etc.
Wide Temperature Range
Most ideal insulation for temperature ranging from - 2000C to+ 1500C
Dimensionally stable even at around 200uC for shorter thermal exposure
Greater Cost Effectiveness:
Fomathane" has the lowest 'k' value among insulating materials. hence minimum thickness is required to achieves the same thermal effectiveness. As exposed surface area is considerably less, the material required for vapour barrier and outside cladding of piping, vessels, tanks and less, equipment is minimal - which means considerable saving on electricity and other ancillaries.
Self - extinguishing:
Has a high fire resistance rating.
Does not melt or drip in fire.
Meets the stringent requirements of the British Board of Trade for shipboard insulation and U.S. Bureau of Mines.
Conforms to BS 476 Part7, 1971 Class 1
Higher Mechanical Strength
Fomathane is rigid and sturdy; structurally strong and dimensionally stable
Fomathane is rigid and sturdy; structurally strong and dimensionally stable.
Does not change shape or size under usage condition
FOMATHANE Technical Specification
Property
Unit
Volume
Density
Kg/M3
32
Thermal Conductivity
W/M/M2OC
0.02
BTU – in OF
Hr sft
0.14
Compressive Strength
172
Parallel
KN/M2
117
Perpendicular
Tensile Strength
186
Parallel
KN/M2
165
Perpendicular
Temperature Limits
-200 to +150
Continuous
0C
+200
Intermittent
Water Vapour
g/M2
60
transmission
per inches
2
FOMATHANE Applications:
Sheet for Walls, under Deck and Over Deck Insulation
Pipe Section for Chilled Water Pipelines etc
Flooring Insulation in Cold Storage, Boats Insulation and Floats.
PUF Pipe Supports