ISOBUILD® Coldroom Panel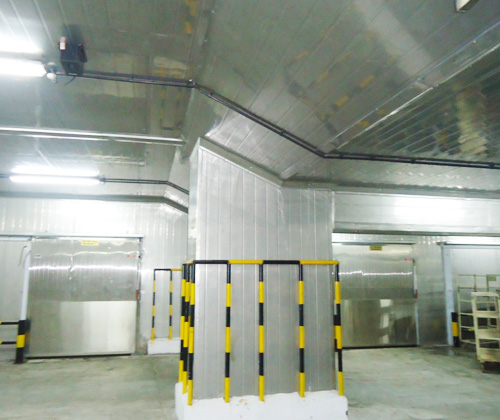 Do Not Just Build, ISOBUILD
ISObuild Sandwich Panel manufactured and designed by Beardsell Limited is the first Choice for Clean Rooms, Cold Rooms, and Partition. While versatility remains its strength, ISOBUILD has been proven to be exceptionally suitable for constructing Cleans rooms in the Pharmaceutical Industry.
Cold Rooms
Beardsell Limited is actively involved in the segment of Cold storages for preservation of various products at a controlled temperature. Unlike earlier where cold storages were constructed using brick and mortar civil building and then added materials for insulation, which takes lot of time and money.
Presently the technology of prefabricated insulated sandwich panels are widely used for construction of cold storage to eliminate the high cost and time for construction of a civil building.
We provide additional products and services for Cold Rooms to ensure customer satisfaction so that a total solution is available.
Coving's
A must for all who value hygiene
Foods grade PVC or Metallic Coving.
Wall to wall , wall to ceiling and wall to floor coving available.
Cornice cups to ensure 3-dimensional integration at the corners of the cold rooms.
Refrigerating Units
Air Cooled or Water Cooled Condensing Systems.
Hermetic or Semi-hermetic Compressor.
Unit with compressor LP-HP switch, sight glass
Solenoid valve, suction/discharge valve, drier etc.
Electrical Panel for Refrigeration System In-built in unit.
low noise, less power Consumption, high performance, little vibration & wide voltage range.
Control Panels
Easy to use & extreme flexible programming.
Friendly wiring & Certified safety protection
All with IP-65 protection rating
Trapped personnel Alarm
Auto-Defrost & Delay timer
Automated alarm system
Waterproof switches
Evaporating Units (Indoor Unit)
Evaporators are compact and sleek.
Stainless steel body (SS304) for enhanced, durability and strength.
Inner grooved copper tubes for superior heat transfer.
6FPI coil to enable air-defrosting.
Improved air throw for uniform air distribution.
External rotor driven fans, low noise levels to conform to IP45 Std.
Applications
Dairy & Ice Cream Industry.
Fruit & Vegetable storage.
Sea Food & Meat Industry.
Banana & mango Ripening.
Hospital & Pharmaceutical & Research lab.
Horticulture & Floriculture.
Hotel & Food Processing Industry.
Cold Chain Distribution.
Egg Processing & poultry Industry.
Advantages of ISObuild
DESIGN FLEXIBILITY: The ISOBUILD panels are "made to measure" and can incorporate doors and windows of various sizes.
FAST IMPLEMENTATION: Simple design, efficient production, easy transportation and quick erection of the building unit greatly reduces the time period of the project.
UNIFORM QUALITY: The ISOBUILD panel is made of superior material and brings a uniform high quality to the construction across the project.
SAVE ON COST: Requirement of reduced labour, less material and inexpensive construction equipment ensures direct cost savings.
MINIMAL MAINTENANCE: The pre-painted/powder coated skin of the panel creates substantial savings in the cost of follow up work and virtually eliminates maintenance costs.
COMPLETE SAFETY: The ISOBUILD panel has passed a 120-minute fire resistance test. It can flex without breaking and forms a monolithic structure that is earthquake resistant.