THERMOFROST EPS Pipe Section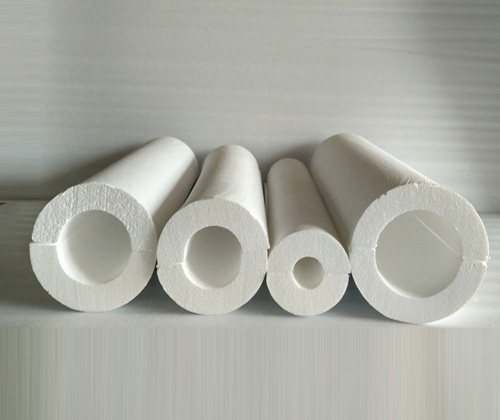 BEARDSELL LIMITED a company established in 1936, has steered itself successfully in the EPS industry. Since its establishment the company has grown multifold and has always met the growing needs of the market. Our professional team's excellence and committed service in providing quality products has helped the company to reach the forefront.
We have famous brand name for our EPS products, such as:
THERMOFROST:
Insulation material slabs, pipe section generally used in Thermal insulation, covers atomic power projects, oil and Petro Chemical industries, Dairy development, Pharmaceuticals, Multiplex mall, and Central air conditioning and are also used in construction of bridge and building etc.

Thermo frost is a light weight, rigid, expanded polystyrene containing 98% by volume still air entrapped in its millions of minute closed cells. this explains its outstanding insulation properties and remarkable resistance to moisture vapour penetration, making it the ideal low temperature insulation material with the best combination of desirable properties.
Cost saving, energy saving advantageous to green building projects.
PREMIUM INSULATION PRODUCTS

The perfect insulation material for industrial low -temperature applications, structural Frost insulation and cold stores of types.

• CFC FREE • Easy to Recycle
KEY PERFORMANCE PROPERTIES
High insulating efficiency : large saving in operation and maintenance.
Non-hygroscopic: dry insulation with optimum performance.
High moisture resistance : lowest permeability among insulation materials.
Light weight : easy to transport and install.
Dimensionally stable : does not warp or bend.
Does not age or decay : insulation is permanent and lifelong.
Structurally strong : excellent for load bearing floors.
Odourless and possesses no food value : free from contamination, does not attract organic spores and fungi.
Present excellent even surface : plastering is easy, perfect and no costly supporting structure is necessary.
Coefficent Of Resistance To Water Vapour Diffusion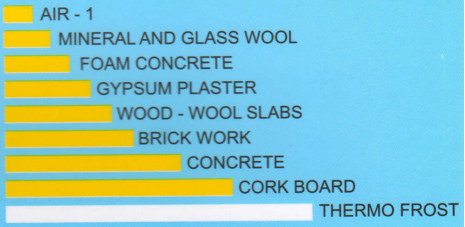 Technical Data :-
THERMAL CONDUCTIVITY
Mean
BTU-in
kcal m
MW
Temp- °C
Fthr°F
mhr.°C
CM'°C
0
0.225
0.028
0.32
10
0.245
0.030
0.35
MECHANICAL PROPERTIES
Temp. Range
Minus 200 to plus 800C
Compressive strength (at 0.10 strain )
0.7-1.0 Kg/Sqcm
Cross breaking strength
1.4-1.8Kg/Sqcm