GEOFOAM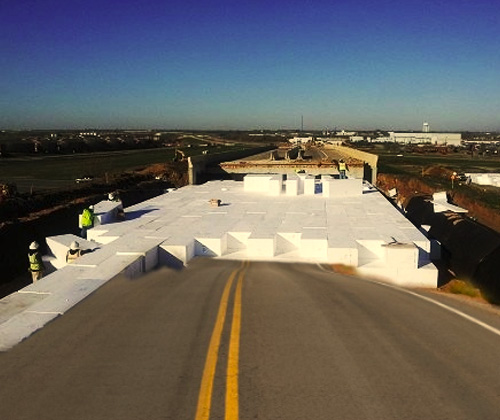 Beardsell Limited is a Leading manufacturer of Geofoam (EPS) products in India. Geofoam is a rigid moulded expanded polystyrene (EPS). That has been used in construction of roads & other geotechnical applications.
EPS geofoam manufactured by Beardsell Limited is a lightweight foam that's developed into blocks and commonly used as a structural geofoam backfill.
Uses of Geofoam Blocks
Made for project locations with weak soil
Perfect for projects with short timelines
Provides soil frost protection
Extremely high strength to density ratio
High compression rates
A natural thermal insulator
Easily transported
Costs less
Geofoam – Mechanical Properties
Strength increases with density. (Normally use as per the technical requirement -16 to 32 kg density)
Shock absorbing capacity depends on the bead size processing conditions as well as density
Geofoam – Physical Properties
Water Resistant
Provides negligible capillarity
Water or water vapours have negligible effect on the mechanical properties of Geofoam.
Dimensional Stability
Geofoam offer dimensional stability remaining unaffected within a wide range of ambient factors
Maximum dimensional change is less than 2%
Thermal Insulation
The uniform closed cellular structure of Geofoam is highly resistant to heat flow
Environmentally Friendly
Geofoam is not aqua toxic
Geofoam is inert in the soil
Does not affect ground water quality hence relatively clean construction adjacent to waterways
Other EPS Products used in construction process
EPS Sheets – Used for Expansion joints & also use as shock absorption in bridges
EPS Beads – i) Used for lightweight concrete & concrete blocks for construction
ii) Light weight Sandwich Panels of concrete for Construction
EPS Slabs & Blocks - Used for dead wall gap and void filling
Geofoam Applications
New highway and road construction
Temporary road construction
Bridge abutments
Landslide areas with weak soil
Artificial landscapes / Gardening
Fill (Roads, Parking lots etc.)
Society & Public Garden
Airfield pavements
Sound reducing barrier walls